Kiev,  Lobanovskogo Avenue 17, phone / fax. (044) 273-34-33, tel.mob. (050) 759-73-73
Circular facelift
Circular facelift: we bring youth back
Every day we look in the mirror gauging ourselves. Even the minor imperfection totally invisible to others is a real drama to us. Let alone first signs of aging! Women go through this phase with much more difficulties than men.
It is common knowledge that aging is a natural process, and negative impact of the environment, bad habits, and stress can dramatically speed it up: skin, especially facial skin, looses elasticity and tightness, skin on forehead, neck, corners of mouth and under eyes start covering with wrinkles and fine lines. And when common procedures like particular injections with wrinkle smoothing effect, Mesolift, and massage do not produce a desirable effect – facelift procedure becomes essential.
This surgery involves forehead lift, cheek lift, cheek bone lift, and upper neck lift. Experienced specialists elaborate a plan of procedure individually for every client. And don't worry about the consequences as long as incisions are made in such a way that suture line will be absolutely unnoticeable because it is hidden either in the hairy part near temples or within the natural ear crease in front of or behind the auricle. The surgical procedure is performed under anesthesia and involves a short inpatient stay – only 3-4 days. The stitches are removed on the 9th-12th day. The effect of the facelift lasts for 10-15 years, and afterwards one can have the procedure repeated.
Circular facelift is an amazing solution that makes a lot of women revive their zest for life and admire their mirror reflections with pleasure. We will make every effort to not only remove wrinkles, but also improve appearance, return youth and fresh look of your face!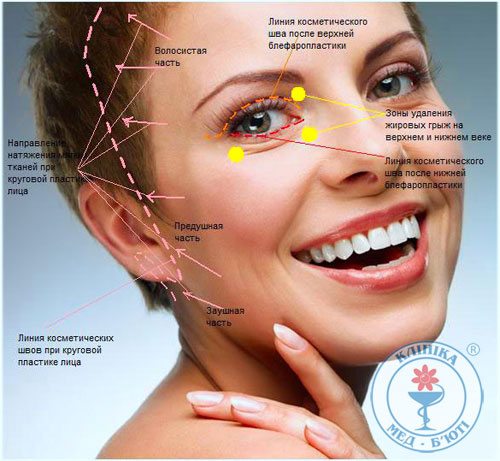 You can make an appointment, call:
tel. / fax. (044) 273-34-33, tel. Mob.: (050) 759-73-73