Kiev,  Lobanovskogo Avenue 17, phone / fax. (044) 273-34-33, tel.mob. (050) 759-73-73
Blepharoplasty
Blepharoplasty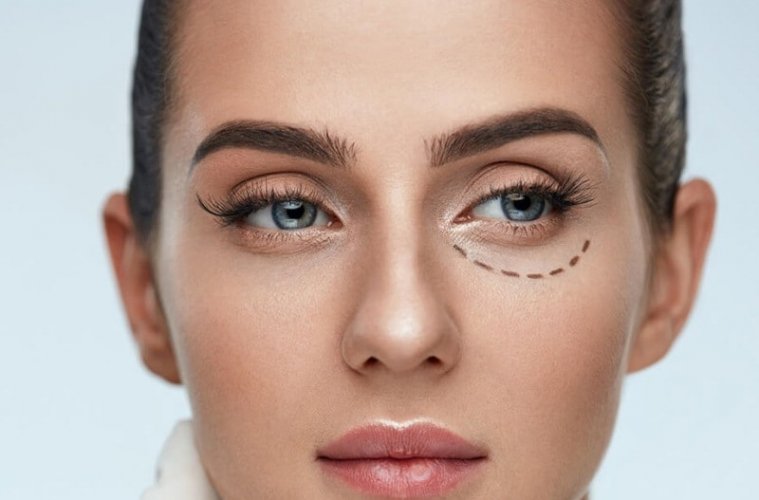 Blepharoplasty
Blepharoplasty (plastic of the upper and lower eyelids) - plastic surgery, the purpose of which is the correction of the eyelids and their shape, as well as the possibility of changing the cut eyes. Blepharoplasty of the eyelids implies the excision of excess skin, the removal or redistribution of fatty formations in the lower and upper eyelids.
Thanks to blepharoplasty, the opportunity has appeared:
raise the corners of the eyes;

remove (remove) bags under the eyes;

get rid of swelling under the eyes;

say goodbye to some types of wrinkles;

to cope with ptosis (descent of the upper eyelids);

eliminate visible asymmetry;

remove the "hanging" eyelid.
The above problems tend to bother women and men by the age of 35-45. Quite often there is a predisposition to the occurrence of fatty hernias, contouring of the nasolacrimal sulcus, "heavy" eyelids, therefore, correction is possible at an earlier age. Lowering the outer corners of the eyes can give the person a sad expression that it is also possible to correct surgically.
Blepharoplasty is divided into several types:
Blepharoplasty of the lower eyelids (removal of bags under the eyes and fatty hernia). This is a particularly delicate surgical procedure, as it involves an incision under the line of cilia growth. Lower blepharoplasty, conducted by a highly qualified specialist, gives a terrific result.

Blepharoplasty of the upper eyelids (getting rid of the "dark" look, removal of overhanging skin). The incision, in this case, is carried out along the natural fold of the skin, after which an excess of fat formations and skin is excised.

Transconjuctival blepharoplasty is a lower eyelid surgery, which involves an incision along the inside of the eyelid. This method is used to remove fatty hernia at a young age, as it requires excellent skin elasticity.
Book an appointment with our best specialists.
Sincerely

"FACE BEAUTY CLINIC"


Tel

+38 (044) 369-30-10
Sincerely, Med-Beauty Clinic
Tel. (050) 759-73-73; 067-101-99-47
Address: Kiev, Valeriy Lobanovsky prospect, 17
Hospital "MEDBUD", 1st floor, right wing.
Work schedule: Mon-Fri from 8:00 to 20:00,
You can make an appointment, call:
tel. / fax. (044) 273-34-33, tel. Mob.: (050) 759-73-73