Kiev,  Lobanovskogo Avenue 17, phone / fax. (044) 273-34-33, tel.mob. (050) 759-73-73
Prevention is better than cure.
Prevention is better than cure.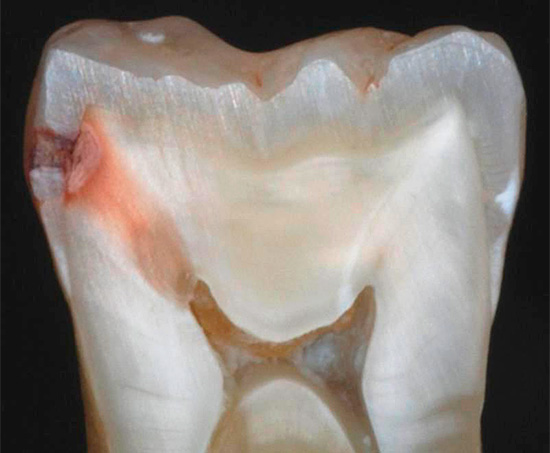 Prevention is better than cure.
Today we want to tell you about the hidden caries.
Hidden caries practically does not manifest itself. Since there is no visible damage to the tooth enamel in it, or they are small, before involvement in the pathological process of the pulp is a "nerve," you usually do not experience unpleasant sensations when hot or cold liquids hit the tooth, you normally chew them.
In the future, the affected area goes deeper into the dentin and dark stains can be seen with a close look at the tooth.
What follows after, you - postpone your visit to the dentist. After all, nothing bothers you. But the carious cavity was formed and slowly developed in favorable conditions. It takes a year and a half and you face severe pain and run to the dentist. The specialist diagnoses pulpitis "nerve inflammation." This is followed by a long-term treatment, namely the removal of the pulp - the "nerve", the cleaning of the root canals and their filling.
It is worth thinking about and not postponing your visit to the dentist for the last moment, as a timely diagnosis will reduce the chances of developing more serious problems.
You can entrust your smile to our highly qualified specialists.
Sincerely, FACE BEAUTY CLINIC Clinic
Address: Kyiv, Lobanovsky pr. 6-A,
Sincerely, Med-Beauty Clinic
Tel. (050) 759-73-73; 067-101-99-47
Address: Kiev, Valeriy Lobanovsky prospect, 17
Hospital "MEDBUD", 1st floor, right wing.
Work schedule: Mon-Fri from 8:00 to 20:00,
You can make an appointment, call:
tel. / fax. (044) 273-34-33, tel. Mob.: (050) 759-73-73