Kiev,  Lobanovskogo Avenue 17, phone / fax. (044) 273-34-33, tel.mob. (050) 759-73-73
Veneers
Veneers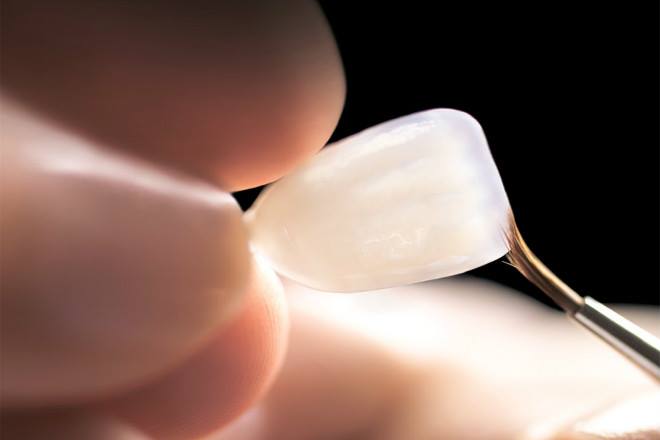 Veneers are a kind of thin plate made of such material as ceramics. They are installed mainly on the frontal teeth, to improve their appearance. The thickness of the plates is 0.5 millimeters. Teeth covered with plates do not have any differences from the real ones.
With the help of veneers you can:
● remove fluorosis spots from the tooth surface;
● straighten the tooth shape;
● hide gaps between two adjacent teeth.
It takes a little time to put the veneers, but several times you need to visit the dentist's office to do everything in perfection.
To create an ideal shape, remove the impression from your teeth, then you can make veneers on it, and then install it on your teeth.
Veneers are absolutely safe. To install them, you do not need to grind your tooth, but only a part of the tooth enamel.
Choosing a restoration using veneers, you will become a direct participant in the modeling of the smile of your dreams. DSD (DIGITAL SMILE DESIGN) is a computer-aided design of a smile, in the creation of which you participate together with your attending physician. DSD-concept allows you to see yourself with a new smile even before all the work is done. After you choose the design that suits you, you will get a wax forecast, which will visually demonstrate the expected result. In the end, you get the perfect natural, only your smile, which you dreamed of!
You can make an appointment with our specialists and get expert help.
Sincerely, Med-Beauty Clinic
Tel. (050) 759-73-73; 067-101-99-47
The address: Kiev, Valery Lobanovsky Avenue, 17
Hospital "MEDBUD", 1st floor, right wing.
Work schedule: Mon-Fri from 8:00 to 20:00,
You can make an appointment, call:
tel. / fax. (044) 273-34-33, tel. Mob.: (050) 759-73-73