Kiev,  Lobanovskogo Avenue 17, phone / fax. (044) 273-34-33, tel.mob. (050) 759-73-73
Dental implantation
We can restore your smile!
Dental implantation is an innovative method of dental prosthesis which entails the implantation of an artificial root made of biocompatible titanium, upon which the dental crown is fixed. This method provides the total replacement of a tooth which has been lost.
Although modern dentistry offers a variety of different prosthetic options, there are many reasons for which standard prosthetics cannot provide a fully satisfactory solution for a defect in the jawbone. Only when implantation has been completed is it possible to arrest the atrophy of the jawbone caused by the absence of a tooth or teeth in the specific location.
The main reason why ordinary dental prostheses no longer fit the shape of the jaw after a few years of use is the loss of bone mass in the jawbone. This makes it necessary to replace the prosthesis. When dental implantation is performed, it is impossible to encounter this problem.
Stages of implantation: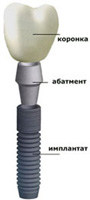 During the operation the implant is screwed into the jawbone, after which the incision is sutured. The recovery process takes three to four months.
A microoperation is performed at the location where the implant has been placed. The blind stopper is removed and the gingival shaper is put in place; which in turn can be replaced within two weeks by a titanium abutment.
This involves taking an impression, and then placing a crown.
Utilization of the most advanced technologies of implantation reduces the length of time necessary for the entire prosthetic procedure, and the crowns are put in place during the operation. Once the crown is correctly fitted into place, one has the same comfortable feeling as if it were one's own tooth.
Preserve your appearance and the health of your teeth for many years!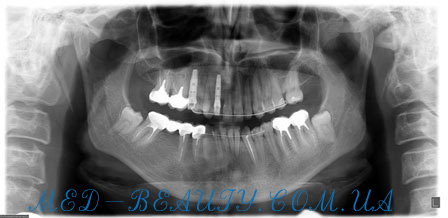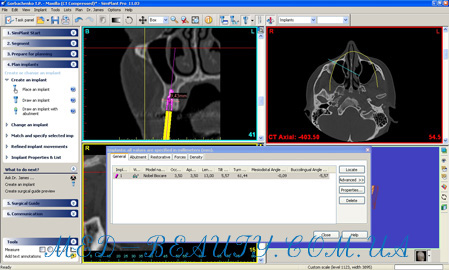 You can make an appointment, call:
tel. / fax. (044) 273-34-33, tel. Mob.: (050) 759-73-73